This wiki is dedicated to the Mashle: Magic And Muscles (マッシュル) manga series.
Warning: This site contains spoilers up to the most recent chapter. Proceed with caution.
Volume 7 releases August 4, 2021!
Information
Administrators  •  Recent Changes  •  Getting Started  •  To Do
This is a fan-made wiki, so anyone is allowed to contribute to the content. Be sure to check out the above links for how to get started.

Synopsis

This is a world of magic where magic is used for everything. But deep in the forest exists a young man who spends his time training and bulking up. He can't use magic, but he enjoys a peaceful life with his adoptive grand-father. But one day, his life is put in danger! Will his muscular body protect him from the magic users who are out to get him? Powerfully trained muscles crush magic as this abnormal magical fantasy begins!
Explore
Affiliates
If you would like to become an affiliate of Mashle: Magic And Muscles, contact us.
Featured Video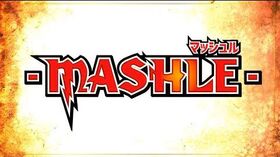 Latest Chapter
Latest Volume
Upcoming Anime Highlights